Snow Removal Companies in Cincinnati – We'll Put Father Winter in His Place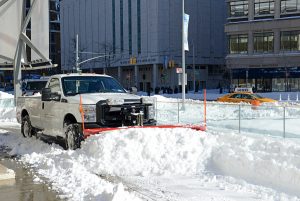 If you are in need of Corporate Snow Removal in Cincinnati then contact the snow plowing and removal professionals at Personal Touch Landscaping.
We may be landscapers in the summer months, but when the snow starts to fall, we know how to put Father Winter in his place.
To request information or a free estimate on snow plowing and removal services, contact us by dialing (513) 476-8621. If you've found us after hours, then please feel free to request a quote online by submitting our handy quote request form. You can access the form by clicking on one of the hyperlinks listed below.
Cincinnati Snow Removal – Let's Face It: Nobody Likes Driving or Parking in Snow
Snow is a fact of life in Ohio, but even those of us who like the snow don't like to drive in it. And parking in the snow is arguably just as bad as driving in it.
No company wants their employees to start their workday by fighting to park in an unplowed parking lot, and no employee wants to finish the workday only to find that their car has been blocked into its parking space by a snow plow that showed up after the parking lot had already filled up.
That's why when you hire Personal Touch to handle your snow plowing and removal needs, you can count on us to get the job done efficiently and, most importantly, on time.
We will plow your business' parking lots, entrances, exits, and any roadways on the property. We can also salt your parking lots and roadways.
Snow Removal Services in Cincinnati  – We're a Cut Above The Competition
If you want affordable snow removal that you can depend on, then call Personal Touch Landscaping today at (513) 476-8621 and speak to our project manager. He can provide you and your business with information and a free estimate for plowing and removal services.
You can also request a free estimate by filling out our simple online form. Just click the location in the list below that is closest to your company's location and fill out the form that appears: