Hardscaping Cincinnati Oh – Solutions for All Your Yard Needs!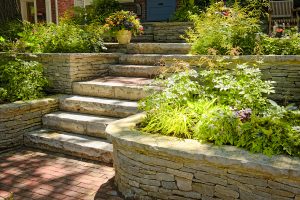 Are you looking for quality solutions for Hardscaping in Cincinnati Oh? Then Personal Touch Landscaping is the answer you've been looking for.
Call us right now at (513) 476-8621 to speak with a contractor and learn more about the types of services we offer. We would be happy to provide you with a free estimate.
Another great way to request a free quote is by filling out our simple online form, which can be accessed by clicking one of the options below closest to your  area:
Cincinnati Hardscapes – What is Hardscaping?
Hardscaping refers to the aspects of landscaping that involve man-made structures, usually made out of stone or wood, as opposed to the organic side of landscaping like planting trees and gardens.
These structures include pathways, stepping stones, patios, decks, benches, retaining walls, and more.
Quality hardscaping can often be the factor that truly makes a yard stand out above the rest.
An elegantly crafted stone patio or walkway can transform your backyard into a magical place that your friends and family will never want to leave.
To add extra seating space without the need for additional furniture, we can build stone benches directly into the stonework of a deck or patio.
A well-designed and artfully placed brick retaining wall around your plants and flowers can help to accentuate the beauty of your garden.
If you live near woods or a stream and, as a result, much of your backyard is on an unusable slope, a retaining wall can even out and expand the usable surface area of your yard.
Similarly, retaining walls can allow you to add terraces to your landscaping. If you're feeling truly adventurous, we can install a fountain at the top terrace and allow the water to trickle and flow like a small waterfall down each level until it reaches a pond at the bottom.
We can install an elegant stone walkway that winds its way from your front yard, around the side of your house, and into the backyard so there's a convenient, clean, and attractive path connecting all aspects of your landscaping.
Walkways and stepping stones are a great way to simultaneously enhance the look and the practical usability of your front or backyard.
These are just a few of the many possibilities that are open to you when you hire Personal Touch Landscaping.
Hardscaping Cincinnati Oh – Contact Us Today!
Don't hesitate to give us a call. We offer free estimates, and the sooner you contact us the more easily we can accommodate your schedule should you choose to hire our services.
Whether you opt for landscaping, walkways,  a retaining wall, a patio, or any combination of these, we're certain that you'll be 100% satisfied with our work.
Call (513) 476-8621 or click below to request a free quote online::