Pond Installation Cincinnati – We Have The Experience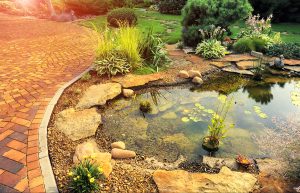 If you are searching for contractors with experience in Pond Installation in Cincinnati or the outlying areas then your search is over.
At Personal Touch Landscaping, our staff has experience with installing and incorporating majestic ponds, streams, and waterfalls into the landscaping of our customers' landscaping.
Whether you're in need of residential pond installation in Cincinnati or you represent a business, call us today for a free estimate at (513) 476-8621.
You can also request a quote 24 hours a day via our online quote request form. Simply click the appropriate option below to launch our digital form:
Cincinnati Pond Builders – Some Thoughts About Pond Installation
If you're looking to add the finishing touch to your home's exterior, the pièce de résistance may be the addition of a scenic pond to your outdoor space.
The installation of ponds, water gardens, waterfalls, and fountains has expanded in recent years, and are often incorporated into or enhanced by stonework, hardscaping, outdoor lighting configurations, plants and flowers in or around the water, and even the addition of koi fish, for example.
Perhaps even more so than typical landscaping, building and installing ponds and waterworks can be very challenging on a do-it-yourself level, and that's why we recommend hiring a professional team who has experience in creating beautiful water gardens and landscapes.
After all, there are a lot of factors to consider when creating these backyard waterscapes. For instance, where should the pond go? If you intend to have live fish and plants in the water, then it may be important to place the pond in a location that has access to lots of sunlight that won't be obscured too much by foliage.
Keeping the pond a safe distance away from trees and shrubs may also serve the additional purpose of ensuring that the waters aren't filled with leaves and other debris over time.
Another consideration is safety. An improperly installed or poorly placed pond has the potential to be dangerous for small children. Our team builds with safety in mind so that you can rest easy knowing your pond, fountain, or waterfall is simply there to be enjoyed.
Pond Installation Cincinnati – Call (513) 476-8621 To Get Started!
To speak with our project manager about your pond or landscaping needs and to receive a free estimate, give us a call at (513) 476-8621. We'd be happy to provide you with general information or to talk details.
Quotes on our services are available for the following locales: